It's all coming together at Crockermoor
The chances of racing resuming this month behind closed doors will become clearer after Boris Johnson's update on the lockdown at the weekend.
If we do get the green light we have two or three dual purpose horses that could run on the flat prior to jump racing resuming hopefully on schedule on July 1. We will have a team of ten ready to run when the time comes for jumping to restart.
Meanwhile it is encouraging to report that building work is progressing well at our new base Higher Crockermoor Farm. Thirty stables supplied by Monarch Equestrian will be going up on Monday in the second new barn while the main structure of the third barn is in place with the roof likely to be completed next week. Once all three barns are finished we will have capacity for 80 horses. At the same time it is exciting to see ground work well under way on our new, uphill four-and-a half-furlong gallop.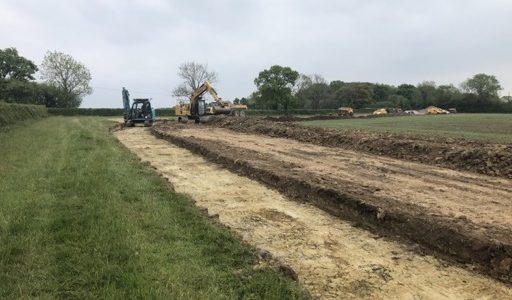 The first task for Penny's Plant Hire is to dig out the shape of the gallop. Then it is a case of laying a membrane, putting in drainage, adding stone before a layer of permeable tarmac is put down. Then it is a matter of choosing a suitable all weather surface and we are delighted to say we have opted for the Martin Collins Geltrack which is a proven high quality product.
With many of our horses already turned out to grass at Higher Crockermoor Farm and most of our staff on holiday our focus is on completing all the necessary preparations before we leave Seaborough at the end of June. We are already recruiting for next season and can't wait to have our first runners from our new yard.